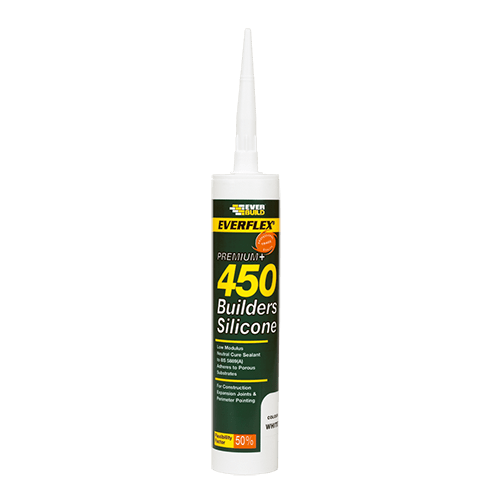 Silicone 450 Builders Clear C3 Size
Welcome to Floors to Walls, your trusted source for top-quality interior design solutions. We are excited to introduce the Silicone 450 Builders Clear in C3 size, a premium sealant designed specifically for builders and professionals who demand exceptional performance and reliability.
Professional-Grade Performance: Our Silicone 450 Builders Clear is engineered to deliver professional-grade performance, ensuring reliable and long-lasting results. This sealant is meticulously formulated to meet the stringent requirements of builders and professionals, providing superior sealing and bonding capabilities.
Crystal Clear and Transparent Finish: The Silicone 450 Builders Clear offers a crystal-clear and transparent finish, allowing your surfaces to shine through without any distortion. This clear formulation ensures that the focus remains on your design elements while providing a seamless and professional appearance.
Versatile and Reliable Sealant: The Silicone 450 Builders Clear is a versatile sealant suitable for a wide range of applications. Whether you need to seal windows, doors, skirting boards, or other construction materials, this sealant provides a reliable and durable bond. Its transparent nature allows it to blend effortlessly with various surfaces, ensuring a clean and professional finish.
Superior Adhesion and Durability: Our Silicone 450 Builders Clear boasts excellent adhesion properties, creating a strong and secure bond between surfaces. Whether you're sealing gaps or joints, this sealant forms a durable connection that withstands the test of time. It maintains its integrity even in demanding environments, ensuring long-lasting performance and durability.
Effortless Application and Smooth Finish: We understand the importance of efficiency and precision in professional projects. The Silicone 450 Builders Clear is designed for easy application, allowing for smooth and controlled dispensing. Its user-friendly formulation ensures hassle-free use, whether you're applying it with a caulking gun or by hand. Achieve a professional finish with ease, thanks to its smooth and consistent application.
Flexible and Weather-Resistant: Our Silicone 450 Builders Clear exhibits excellent flexibility, accommodating the natural movement of materials without compromising its seal. This flexibility makes it suitable for a variety of surfaces and construction materials, providing a reliable and long-lasting solution. Additionally, it is weather-resistant, capable of withstanding harsh conditions and maintaining its performance over time.
Mould and Mildew Resistant: Maintaining a clean and hygienic environment is paramount. Our Silicone 450 Builders Clear is formulated to resist mould and mildew growth, preventing unsightly stains and preserving the integrity of your sealed areas. Enjoy a healthier living or working space with this reliable sealant, free from the worries of mould or mildew buildup.
Convenient C3 Size Packaging: The C3 size packaging of our Silicone 450 Builders Clear provides a generous amount of sealant, ensuring you have enough to complete your projects. This convenient size reduces
Delivery Information
Once you place an order, we will e-mail you to confirm that we have received it. All orders are dispatched within 5 working days from receipt of order (usually within 48 hours). Please provide us with an up to date contact number when ordering, so that we can pass it on to the courier. Orders placed before 1pm will be dispatched same day. We use an overnight service, however. due to the ongoing pandemic delivery services can be slower than normal so please allow additional days for delivery. Our courier issues all its tracking information via text, So please add a contact number to your order. The courier can only deliver to the main entrance of your property, They are not insured to enter. Your order will be delivered at any time between 8am and 8pm, A signature will be required unless a leave safe place has been authorised. unfortunately we are unable to specify a specific time or time slot (If a mobile number is given, you will receive a text from the courier) If our carrier is unable to deliver, you will be able to contact the carrier to arrange re-delivery in most cases. *Please note that all of our products are produced in batches. If you require the same batch of a product from a previous batch, please do contact us and we can check availability. If no batch is given, we will ship our current batch, there can be a slight colour/shade variation between batches so it is always best to notify us. When installing the panels, it is highly recommended that our products are not cut outside in direct sunlight as this can discolour the products. This information is located in the Care & Maintenance instructions provided with each order. Panels that have been cut outside are not covered by warranty. Please do not book your installer or Job with your customer until you have received your order, opened and checked your order for shortages, incorrect items or damages. We cannot be held responsible for any installer fees you may occur. *Unfortunately we no longer deliver to Northern Ireland.
Delivery Prices
Delivery is charged at £12.49 (inc. VAT) for all orders under £75.00 For orders over £75.00 delivery is free. For Deliveries outside of mainland UK, i.e. Highlands, Scottish Isles, Channel Islands, Northern Ireland & Eire, please contact us for delivery prices.
Your order will be delivered at any time between 8am and 8pm, unfortunately we are unable to specify a specific time or time slot. If our carrier is unable to deliver, you will be able to contact the carrier to arrange re-delivery in most cases.
Guarantee
If you are not completely satisfied with your cladding products, you have 30 days to return your order to us (See returns section below) for a full refund.
Returns
You have the right to change your mind and return your product to us, unused, within 30 working days of receiving your order.
Any packaging or security seals must be intact. You will be responsible for paying postage costs for the returned item(s). Any refunds or replacements will be processed upon return receipt of the returned item(s).
If you receive a damaged, faulty or incorrect item, please contact us within 24 hours of receipt to let us know and we'll arrange to refund or replace the item(s). Any refunds or replacements will be processed upon return receipt of the returned item(s). we may require photographic evidence to pass onto the courier.
Floors to Walls Ltd cannot be held responsible for items lost or damaged when being returned to us. Always obtain a Certificate of Posting and we highly recommend using a Signed For service.
Returns Address
Floors to Walls Ltd
Unit 6a
Belmont Industrial Estate
Durham
DH1 1TN